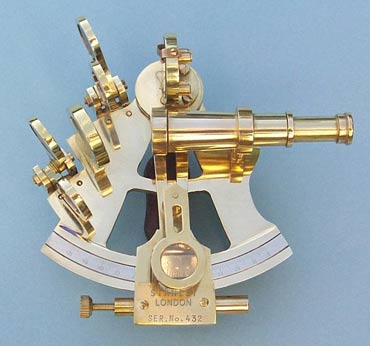 4-inch (10 cm) Brass Stanley London Sextant
(Click picture for larger image)
This miniature brass sextant has a wide frame, fully adjustable mirror mounts, a turned hardwood handle, and heavy filter mounts. The 4-inch (10 cm) radius brass sextant has a slow motion control to allow fine adjustment of the inclination angle. The sextant (not including telescope) measures 4 7/8 inches (12.4 cm) tall, 4 1/2 inches (11.4 cm) wide, and is 2 3/4 inches (7.0 cm) deep. It has a built-in large and powerful magnifier that can be swung into position to assist in reading the German Silver vernier scale.