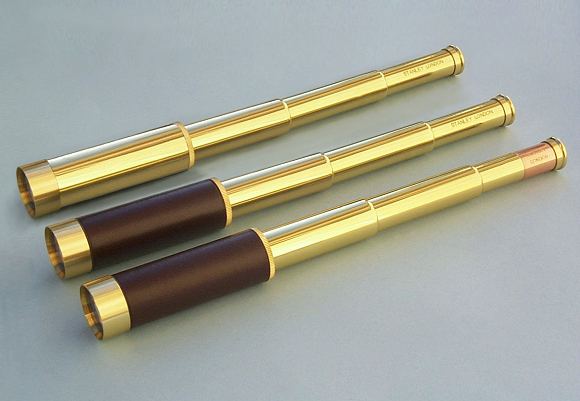 Click on any of the thumbnail images to view a larger image.
25x30 All Brass Telescope

25x30 Leather Sheathed
Telescope with Case

25x30 Leather
Sheathed Telescope
Detail of Engraving
on 25x30 Telescope

Detail of 25x30
Telescope's Eyepiece

Detail of Telescope's
Objective Lens
Telescope Collapsed
with Faux Leather Case

10-30x30 Zoom Telescope

10-30x30 Zoom
Telescope with Case
14-inch
Telescope Case

Detail of
Hardwood Splines
Stanley London® Modern Design Solid
Brass Handheld Spyglass Telescopes
All Brass or Leather Sheathed
Retail Price: $45.00 - $53.00
$31.80 - $36.00 each
(Min Order 100 pcs)


These Stanley London® 4-pipe brass spyglass telescopes are a modern hi-tech departure from our antique reproduction brass telescopes. These small telescopes are almost as powerful as our largest floor-standing harbormaster telescopes. Like all of our brass telescopes, these produce a sharp non-inverting (upright) image. We offer two 25-power telescopes, as well as a 10 to 30 power zoom model. Both have precision 30 mm objective lenses and all optics are the highest quality with full anti-reflection coatings. They are solid brass and are available with a 100 percent hand-sewn leather sheath. Unlike our other spyglass telescopes where you have to shorten the smallest pipe to focus, these telescopes have a unique feature where you simply rotate the eyepiece to bring the image into crystal clear focus. The 10-30 zoom telescope has a second copper-colored ring to control the zoom. Best of all, unlike our other polished brass telescopes, these have a special scratch resistant clear coating that eliminates tarnish and fingerprints on the brass. The 25 power telescopes are available with a polished brass outer tube or hand-sewn leather sheath. The 10-30 zoom telescope is only stocked in the leather sheathed version. The 25 power has slightly brighter and sharper optics, but the zoom model allows continuous adjustment of magnification from 10 power to 30 power. All telescopes come with a leatherette zippered carrying case with both a hand strap and a belt loop, and lens cleaning cloth. The telescopes are 1 3/8 (35 mm) inches in diameter, 13 1/2 inches (34.3 cm) long when fully extended and 5 3/8 inches (13.6 cm) long when collapsed. The 25-power models weigh 7.5 ounces (213 grams) and the 10 to 30 power zoom model weighs 8.3 ounces (235 grams). All telescopes are engraved "Stanley London" near the eyepiece. The telescopes can be with up to two lines of text and a maximum of 4-5 words per line. The 25-power all-brass telescope can be engraved on any brass tube and the leather-sheathed telescopes can be engraved on the largest brass pipe. Due to the large width of the engravable area, we suggest engraving full names rather than monograms or initials.